Art of Cogs Part 2
Posted by

Brendan Mauro

on Wednesday, 13 May 2009
(Continued from yesterday.)
In April, 2008, I had been living in the city for a couple months and was becoming a regular attendee of the monthly San Francisco Postmortem where one night I had the good fortune of meeting one Rob Jagnow. I'd been looking for a project to give me something creative to do (at the time I was parking cars for a local Valet company) and Rob pointed me to his website where he had a few screenshots of a small personal project he'd been working on called "Cogs."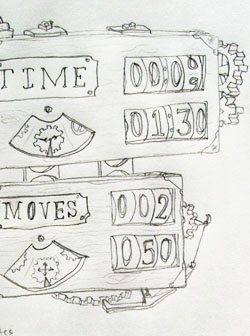 By this point the game had evolved to include three distinct challenge modes and around 25-30 playable puzzles. I liked what I saw, especially once Rob sent me a fully functioning build to play through. The game was a lot of fun even in it's current state.
Rob described the game to me as "steampunk," which intrigued me because steampunk was something I knew a decent bit about. Aside from the fact that it was something I'd been into since well before it became a household term (well, nerd households anyway) I am an avid Lego enthusiast, and there is a whole Lego enthusiast sub-group devoted to steampunk Lego creations. So I sketched up some interface ideas, throwing in everything I knew about the steampunk genre, and sent them off to Rob.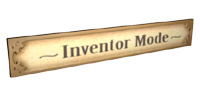 Rob liked what he saw, save for a few details (he had decided early on that there would be no electricity in the game, at least not yet). However while at this point I had convinced him of my interest in the project and that I could probably bring some creative input to the table I still had to prove that I actually knew what I was talking about so I whipped up a quick menu button with accompanying diffuse, specular and normal maps and sent it all his way. Within a week we were drawing up a contract.
While we never ended up using that button I had already begun establishing the foundation of the eventual Cogs aesthetic. Note, for instance, a certain gear motif that found its way onto most of the final interface elements.