Save $60 with the Best of Indie
Posted by

Rob Jagnow

on Thursday, 6 August 2009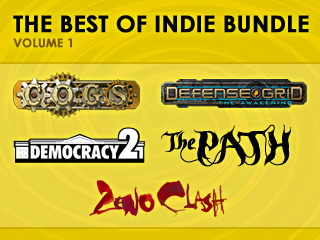 Great news for indie game lovers! Direct2Drive included Cogs in the "Best of Indie" Bundle, which is available now through August 9 for $17.75. The game pack includes Cogs, Zeno Clash, Defense Grid, Democracy 2 and The Path. That saves you sixty bucks over buying all five games individually!
Get your copy while this deal lasts.
Here's a breakdown of all the usual prices so you can see just how much you're saving.
| Title | Retail Price | D2D INDIE BUNDLE PROMO PRICE |
| --- | --- | --- |
| Zeno Clash | $14.95 | $3.95 |
| Defense Grid | $19.95 | $3.95 |
| Cogs | $9.95 | $2.95 |
| Democracy 2 | $22.95 | $3.95 |
| The Path | $9.95 | $2.95 |
| Total Price | $77.75 | $17.75 |