Cogs for iPhone: Huge New Screenshot Gallery
Posted by

Rob Jagnow

on Monday, 14 December 2009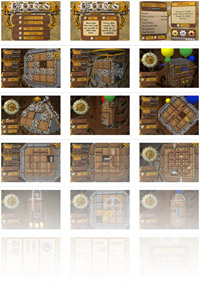 Cogs for the iPhone is launching in late January, so we just posted a huge new gallery of screenshots. As you can see from the screenshots, everything looks done, but we want to leave plenty of time for polish and testing before we release it into the wild.
We've partnered with Chillingo for the release and we're excited to be one of the very first games to use their Crystal technology for global achievements and leaderboards. More on that in the coming weeks.
As you can see from the screenshots, we're really pushing the limits of the iPhone technology to bring you an immersive puzzle experience unlike anything else out there. We've redesigned the entire user interface to make it as fun and intuitive on the iPhone as it is on the PC and have even modified and added puzzles to smooth out the learning curve and get you into the 3D puzzles as soon as possible.