Announcing Cogs!
Posted by

Rob Jagnow

on Sunday, 25 January 2009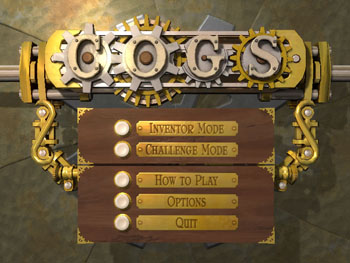 Lazy 8 Studios is excited to announce the upcoming release of our flagship game, Cogs.
Cogs is an innovative new puzzle game where you use sliding tiles to build machines. It's easy to play and incredibly addictive. We've designed 50 levels and three gameplay modes, so you can play as an inventor, test your efficiency, or race the clock. Each puzzle is like its own unique mini game. As you earn your way to more challenging levels, you'll build helicopters and tanks, hot-air balloons and music machines.
This game has been a part-time project of mine for more than five years, but the result is well worth the wait. Every part of the game is visually stunning, all done in a beautiful steampunk style with wood and polished brass. One beta tester described it as "just delicious!" Check back later for more details as we prepare for a mid-2009 release.